Popular Sizes of General Use Mobile Barriers,and Those for Different Market:
Frame tube: 32X1.5mm, 25X1.5mm
Infill tube: 20X1mm, 14X1.0mm
Surface: Galvanized, hot dipped zinc plated,colour pvc sprayed
Popular Sizes For Australia Market:
Wire diameter:3-5mm
Hole size:50x100,75x75,75x100,60x150mm,etc
Size: 2100x2400,1800x2400,1800x2500,2100x2900,2100x3300etc
Frame & middle pipe: 25mm,32mm,42mm,48mm
Surface:Electro galvanized,hot dipped galvanized,powder coated

Popular Sizes For American Market(chain link mesh):
Wire diameter: 3-5mm
Mesh opening: 50x50mm,60x60mm,70x70mm,75x75mm
Fence Panel Size: 2100x2400,1800x2400,2100x2900,2440x2650mm
Frame & middle pipes: 25mm,32mm,42mm,48mm

Popular Fence Sizes For Canada:
Wire diameter: 3-5mm
Mesh opening: 50x100mm
Panel Size: height 4-6' width9.5-10'
Outside frame: 25mmx25mm,30x30mm
Middle pole: 20x20mm,25x25mm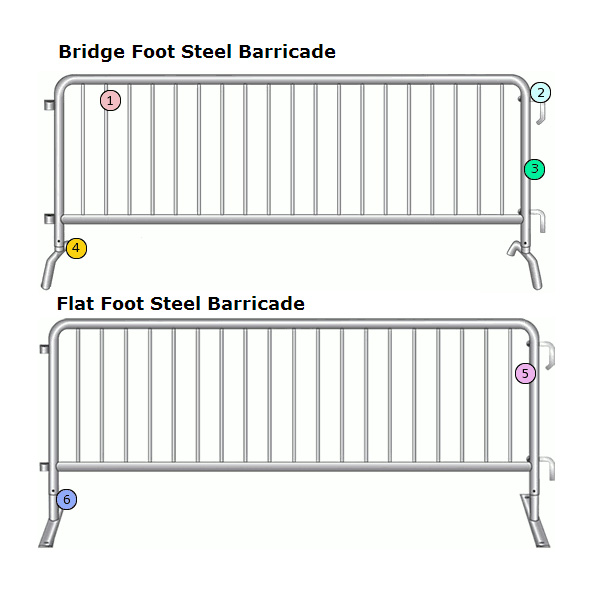 Bars That Stay Put
Our uprights are fully inserted into the frame and then welded tight - which helps to prevent the rod from breaking off from the frame.

Secure Connections
CrowdStopper barricades interlock using a simple hooking mechanism. Its angled male connector prevents one barrier from being removed from a continuous line of barricades.

Best-Quality Materials
16-gauge steel tubing is used for the frame and the rods.This extra-strength steel produces a durable, rugged barrier that will last for years.

Removable Feet
The foot mechanism attaches to the unit with a bolt and nut, allowing the feet to be removed easily for storage,transport and replacement.

Surface Treatment
Frames are hot dipped and galvanized dipped into a perspective zinc coating - which prevents corrosion and rust. This process lasts 4 times longer than painted steel.

Convenient Usage
Flat Foot is ideal for funneling crowds or traffic in parallel lines because it does not present a tripping hazad and vehicle tires roll over easily without damage to the foot.